News
Britigraf will present its new designs of ornaments and labels at the K22 stand of Futurmoda 2019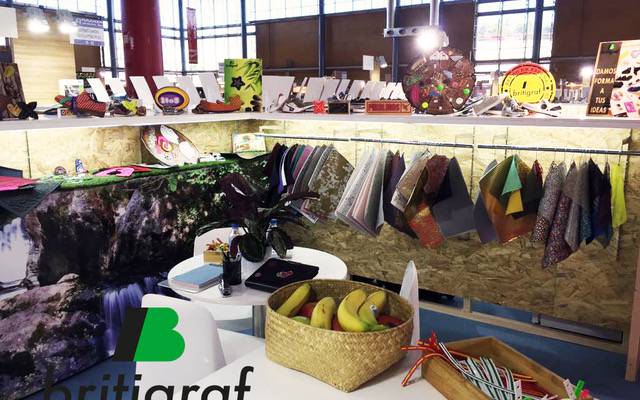 30 Sep 2019
Britigraf will present the latest trends in footwear components as well as all types of leather goods in a new edition of Futurmoda . The international event of skins, accessories and footwear machinery will be held on October 16 and 17 at the IFA (Alicante) .
The Futurmoda Fair is a national reference and has become a place of confluence of designers, creatives, firms and manufacturers to learn about the latest fashion trends . Among the most innovative companies and with a very wide exhibition offer, Britigraf is positioned, a company dedicated to the manufacture of all kinds of labels and ornaments for footwear and fabrics .
The incorporation of the latest technological advances in our machinery allows us to produce high definition labels with the use of different materials such as cardboard, cotton, linen, polyamide, satin and polyester, among many others . Being at the height of the circumstances is key to get a quality job with safety guarantees.



We shape your ideas
Do you want to give your brand greater visibility? We help you to carry out a marketing strategy with interior and exterior signage, vinyl, roll-ups, cut-outs, digital printing, advertising, stationery, cards, brochures, leaflets, letters, etc. At the same time, we promote merchandising with the design and manufacture of your logo incorporated into any desired item and fabric .
To ensure success in each of our projects, we carry out the most up-to-date techniques on the market: digital printing, stamping and engraving, high frequency, injection, micro-injection or digital transfer . Similarly, we produce woven, printed, reflective, laser-cut or hanging labels to identify your brand on the product , as is the case with hanging labels for clothing stores. Another aspect that an entrepreneur must take into account is that the work uniforms of their employees reflect the identity of their business.
Britigraf's wide range of services also extends to sportswear for clubs, teams or associations as well as school uniforms for all ages. In this way we encourage children to identify their clothing to embark on the path to their own independence.



Meet Britigraf products in first person
The most anticipated national fair is about to begin . Come to know the latest developments in the textile and machinery sector and enjoy two exciting days of fashion . If you visit our stand located in K22, you will appreciate relief designs among many other 100% quality products made in Spain .
We are fortunate that our headquarters are located in the city of Elche or also known as the capital of footwear . This great privilege allows us to specialize in the design and development of all kinds of ornaments in this exciting sector (rings, pins, terminals, handles, etc.) .
We differentiate ourselves by quality, the technological advance incorporated into our elaboration and perfection in the final product with high definition designs . If you want to know more about us, do not hesitate to contact us:
Email: info@britigraf.com .
Telephone: (+34) 965 683 882
Address: Calle Alberto Sols, 18, 03203 Elche (Alicante) Spain
Image gallery