News
This summer, high-frequency decorated shoes triumph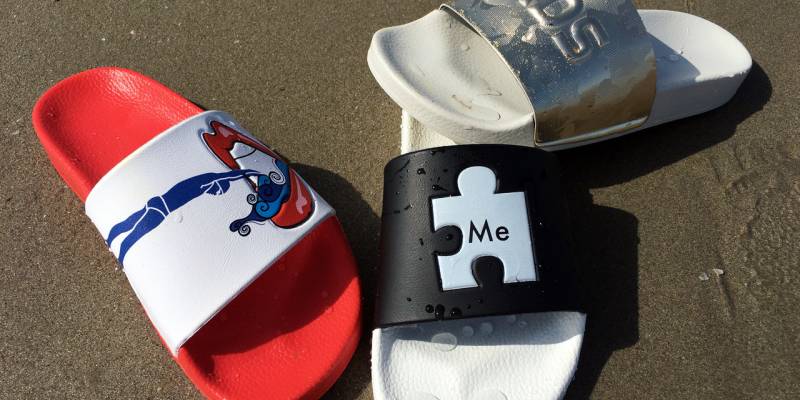 16 Jul 2020
Cheerful and colourful footwear is the most demanded in summer, especially when it includes pieces made with innovative techniques and different materials. At BRITIGRAF we use the most current and requested techniques in the footwear sector to offer you the results you need. Check out the quality of our high-frequency ornaments and the final result they give to your footwear: you will get a successful shoe, very appreciated in the market and that will set the trend. Our work will be very useful to you in:
Beach slippers designed with an extensive range of designs and colors
children's sandals with fun decorations
The footwear pieces where the corporate brand or logo is inserted
sports shoes with high quality relief and fluorescent colours
etc.

Nowadays, high frequency is one of the techniques that our customers demand the most to manufacture some footwear pieces. It allows us to make embossed ornaments and totally customized shapes, depending on the style of your shoes. It is a technique widely used to personalize a brand that is frequently used in work footwear, sports footwear and all the variables of summer footwear. For sure you will love, in beach flip-flops, the wide range of solutions that our creative team will offer you to design fun bathing paddles.
High-frequency decorations combined with digital printing and silk-screen printing, the ideal solution to customize your footwear
At BRITIGRAF we offer you the opportunity to personalise your footwear with our high-frequency decorations, which can be successfully combined with other current techniques such as digital printing or silk-screen printing. To do this, we use the best materials on the market. Our mastery of current techniques allows a perfect and precise cut of the pieces and some very fashionable and showy articles.
Depending on the type of footwear and the public to whom it is addressed, we offer you different materials, always of the best quality, for the manufacture of sides, soles, insoles, heel pads, straps, ... even the labels of your products. They can be personalized using relief prints and a wide range of reflective colors that this summer are the most demanded.
BRITIGRAF offers you the best quality for your high frequency ornaments
We are a Spanish company with a long professional career oriented mainly to the footwear sector. Our success is based on the fact that we offer a quality product where we combine experience and the latest technology in printing. Although we make high-frequency decorations for shoes, we also work for any sector where our technology can be applied: leather goods, textiles, automotive, ... Likewise, in recent months, we have been manufacturing parts for protective screens, for fastening masks, signs warning of safety distance, nozzles for artificial respirators, etc.
We invite you to contact us. We will offer you personalized advice adapted to your needs. You will love the professionalism of our technical team, their proposals and their commitment.
To contact us, all you have to do is fill in the contact form on the website and one of our professionals will contact you shortly. You can also call us at +34 965 683 882 or write an email to info@britigraf.com
We are located in ELCHE PARQUE EMPRESARIAL, calle Alberto Sols, 18 - 03203 Elche (Alicante) Spain.
Image gallery