News
Britigraf, the rubber shoe trim manufacturer you need to make a good impression on your customers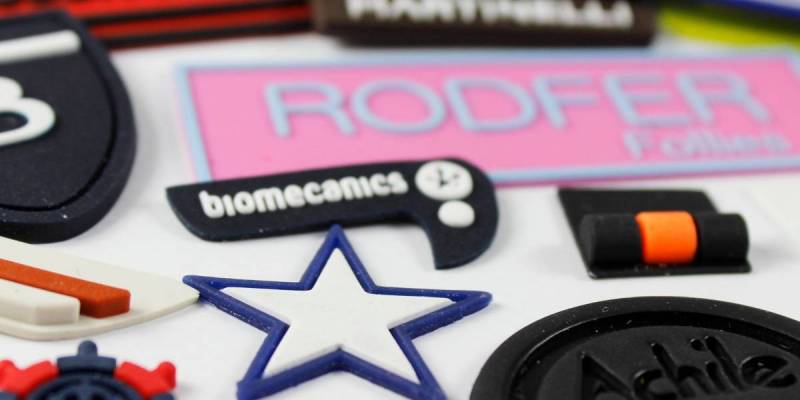 14 Aug 2021
Are you looking for a manufacturer of rubber ornaments for footwear that can give shape to your designs and ideas? At BRITIGRAF we use specific machinery, based on the microinjection technique, with which we are able to...
Obtain different heights, textures and shapes
Combine different colours in the same ornament
Apply rubber on textiles
Offering microinjection sheets with different reliefs and thicknesses
Personalise your brand and give it a unique distinction in the market.
Achieve a high quality, resistant and high definition product.
The versatility of this technique allows us to recreate and meet all the demands of our customers. The possibilities for creativity are endless. In addition, if you need inspiration, at BRITIGRAF we have a creative team that can advise you without obligation in search of the most suitable design and technique for your products. We have all the resources you need, both technical and human, to give your articles the notoriety they deserve in the demanding world of fashion.
What can we do for you as experts in microinjection and manufacturer of rubber trims for footwear?
Would you like to personalise your new line of shoes with your company's logo or signature using plastic embossing? You couldn't have made a better choice. Microinjection embellishments are a current trend in fashion and are very popular with consumers due to their rubbery and elastic appearance. If you want to incorporate this innovative decorative effect into your products to identify your brand, we are the Rubber trims for footwear and textile manufacturer you are looking for.
Making a good impression on consumers is the most important thing to do if you want to succeed in the world of fashion. There are details that define the impact of a brand and this is undoubtedly one of them. Listening to and attending to the needs of the public is an essential exercise.
Rubber trims, for example, are one of the novelties that you should take into account. They are mainly used in children's, sports or work footwear, although, given their versatility, their use also extends to other items such as bags, leather goods, belts, clothing, etc.
The raw materials we use in BRITIGRAF for the creation of rubber trimmings comply strictly with the European REACH regulations, which guarantees a 100% quality result while providing an aesthetic and identifying value.
Trust in our experience as a manufacturer of rubber trimmings for footwear
If you are thinking of giving a more innovative touch to your brand and style, contact our Manufacturer of rubber trimmings for footwear and textile. We have extensive experience in the field of microinjection, a cutting-edge technique that allows us to give relief and combine a wide variety of colours to any type of shoe and texture.
Take a look at our latest work through the photographs attached in our web section "Microinjection" and if you wish, you can contact us without obligation to request more information:
Address: Elche Parque Empresarial (calle Alberto Sols, 18, 03203 Elche, Alicante, Spain).
Phone: +34 965 683 882
Email: info@britigraf.com