News
Visit to Britigraf at Futurmoda 2022: R&D, eco-sustainability and novel technologies for footwear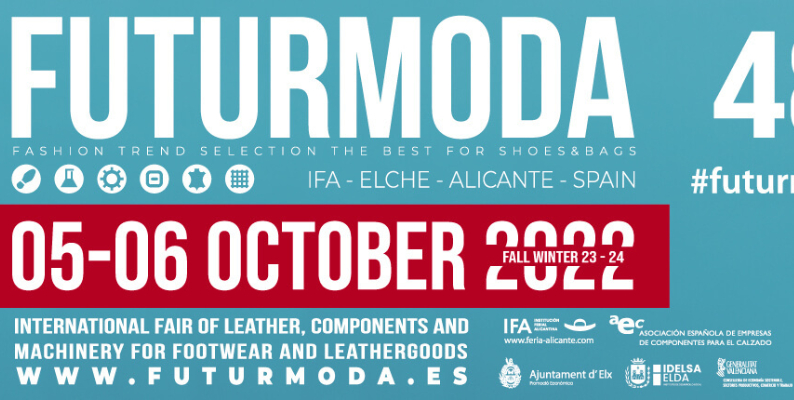 16 Sep 2022
Another consecutive year, Britigraf will be present at one of the most important national events on skins , components and machinery for footwear and leather goods, the 2022 International Futurmoda Fair, held on October 5 and 6 at IFA (Alicante).
This new edition of the Futurmoda fair has 300 exhibitors , more than 7,000 visitors , 12,000 square meters of facilities and up to 50,000 products from very diverse categories where you can find leather or fur, textiles, technology for fabrics, chemical products, graphic design, components for footwear or accessories in general.
Among the many companies of great relevance in the fashion sector that will be present at the event, Britigraf will be among the most relevant brands at a national level to exhibit a unique and innovative selection of materials for footwear, thus showing the latest technological advances in relation to their design and creation.
And it is that, as a commitment to development , the environment and R&D , at Britigraf we manage to apply innovative techniques such as high frequency, injection and microinjection, stamping and engraving... All this and much more you can learn from us! the hand of our professional team at Futurmoda!
At Futurmoda 2022 you will be able to interact with us and observe how we exponentially add value to the brands that choose us
At the Futurmoda fair you will find the most current trends in the fashion sector , as well as novelties and sustainable products that the industry is developing. In fact, at Britigraf we have been doing this for more than 40 years , evolving and growing as a company, betting on the future, on new work models and on ways to develop footwear in the least polluting way.
That is why, if you are looking for a company that will help you, guide you and advise you comprehensively when designing and creating a new product for your important company, you have come to the right place. We have a solid technological and clothing and footwear development infrastructure that will successfully position your brand in the wide world of fashion.
Do you want to know what else you will get by trusting us?
You will have at your disposal a creative team capable of advising you.
Your brand will have behind it one of the most important clothing and footwear design companies based in Elche .
After four decades of experience , we have developed a work methodology in which we obtain results in record time.
You will have the security of having a unique, different and totally disruptive product , as well as having it within the estimated delivery time, without delay.
If you visit the Futurmoda International Fair 2022, Britigraf will gladly assist you
Do you want to see our news before anyone else? We will be at Futurmoda on the scheduled days and you will have the opportunity to observe our exhibition, ask us questions and start a conversation with our team of experts so that they can answer all possible doubts.
Do you want to contact us?
Email: info@britigraf.com
Telephone: (+34) 965 683 882
Address: Calle Alberto Sols, 18, 03203 Elche (Alicante) Spain
Image gallery