News
Resounding success for BRITIGRAF at FUTURMODA 2022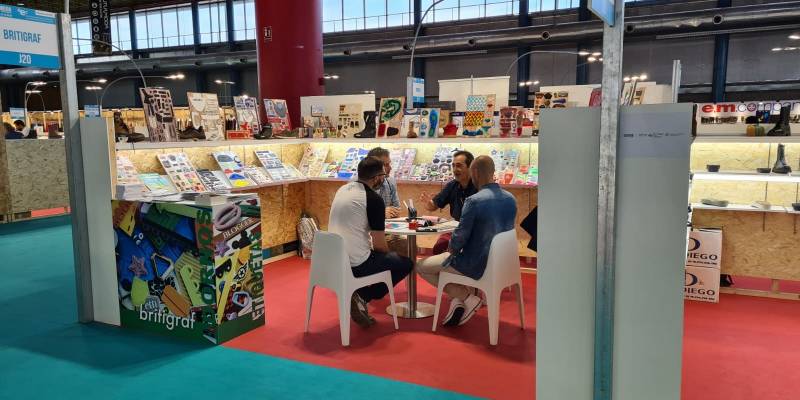 12 Oct 2022
This new edition of FUTURMODA, the 48th edition, was held on October 5 and 6 in Elche and brought together the most important international firms in the footwear and leather goods sector specializing in decorations, synthetic fabrics, leather, platforms, heels, soles, as well as components and machinery.
Considered a worldwide benchmark in the leather and footwear components sector, FUTURMODA 2022 has brought together professionals from all over the world at the Alicante Trade Fair Institution (IFA): Spain, Italy, France, Turkey, Portugal, Morocco…
One more year, BRITIGRAF has been present at this international fair, where we have exhibited our latest novelties in the footwear sector to designers, manufacturers, model makers... The system of open stands at this Spanish fair has allowed our visitors to directly approach the products that most interested them, to know the different textures, to directly appreciate the quality of our articles and to be able to ask us about any of these materials, which set the trend for the new autumn-winter 2023-2024 collections of footwear, bags, leather goods. ..
Visitors to FUTURMODA 2022 have shown a growing interest in the manufacture of components and decorations for shoes with sustainable materials
The large influx of visitors we have received at our stand has allowed us to publicize our range of recycled products . We have verified that the manufacture of components and decorations for shoes with sustainable materials has had a great interest among the attendees.
Our commitment to the environment leads us to promote the different materials that we have developed for the manufacture of footwear and leather goods from bioplastisol and different recycled materials, so we are very excited about the great acceptance it has had among visitors to our booth.
BRITIGRAF, Spanish manufacture of components and decorations for shoes with sustainable materials
At BRITIGRAF we have been dedicated to the manufacture of shoe decorations, components for footwear and leather goods, labels... Our industry, 100% Spanish, bases its success on the fusion of traditional manufacturing with the most innovative technology. Currently, we have opted for recycled and bio-sustainable materials to manufacture shoe decorations with sustainable materials, as well as footwear and leather goods components, achieving great acceptance of our products.
If you couldn't attend FUTURMODA 2022 and want to know in more detail the items in our catalog of decorations for shoes with sustainable materials, don't hesitate to contact us. To do this, choose any of the following options:
Fill in the contact form that appears on our website.
Send an email to info@britigraf.com and, as soon as possible, we will contact you.
Call the phone: +34 965 683 882. Our customer service team will assist you in Spanish, English or French.
Visit us personally at our facilities located in ELCHE PARQUE EMPRESARIAL - Calle Alberto Sols, 18 – 03203 Elche (Alicante) Spain.
Image gallery