News
Looking for a safe and comfortable mask fit?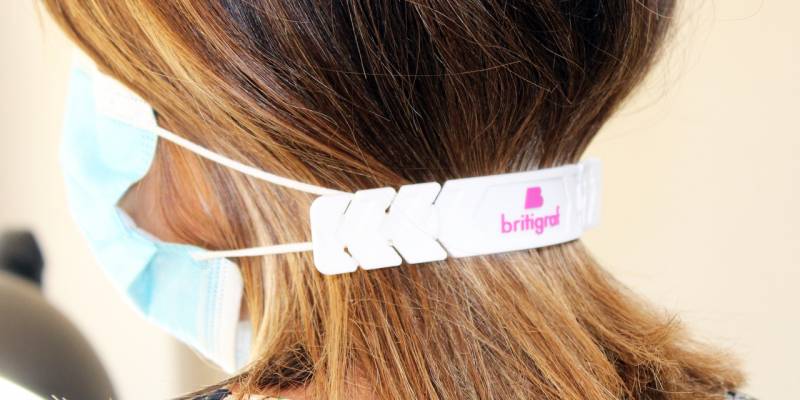 6 Aug 2020
If you are looking for an option to hold your mask safely and that is very comfortable , ask BRITIGRAF. We offer you the mask support you are looking for. The extraordinary circumstances caused by the pandemic have meant that this summer we have incorporated a new element into our lives, the mask, which helps prevent the transmission of the disease. The heat derived from the high temperatures of summer, as well as the many hours of daily use and the physical peculiarities of each individual are circumstances that, in many cases, make the masks uncomfortable and very difficult to wear.
The BRITIGRAF creative team has worked against the clock to offer you different solutions that allow you to find the one that best suits your needs and that makes it easier for you to hold your mask comfortably and safely.
In our company, dedicated for more than forty years to the manufacture of decorations for footwear, leather goods and labels, we have the machinery and materials necessary to supply the demand for new products related to the appearance of COVID-19. For this reason, we have created a department for the manufacture of:
Mask attachment parts
Parts and Mouthpieces for Respirators
Parts to adapt protective screens
COVID-19 safety distance signage
Etc.
We offer you pieces to hold a mask of any size
Regardless of the size and type of masks, at BRITIGRAF we have a wide variety of parts to securely hold the mask and, at the same time, make it easier for you to use it comfortably.
We have very current technology in the injection of thermoplastics , with which we manufacture an infinity of accessories and technical pieces for very different sectors: footwear, sportswear, clothing in general, automotive, furniture ...
Now, with our injection system, we also manufacture injected parts such as rings, buckles and pins of different sizes that allow the masks to be adjusted more securely, whether they are for children, adults, sports, etc.
One of the most successful items is our custom branded microinjected parts. They are flexible and have a nice touch. Due to its design, it allows to securely hold the masks of different models. We can manufacture them in different sizes and colors, guaranteeing the best results.
Ask us about the options for mask fastening that BRITIGRAF offers you
BRITIGRAF is a totally Spanish company that works both nationally and internationally . We will assist you speaking fluently in Spanish, English or French. Contact us today and our commercial advisers will offer you our different options for mask fastening.
We are a serious and professional company. Our long experience in the footwear sector supports us. We always meet our deadlines . In addition, we will listen carefully to your needs and, in collaboration with our team of designers, we will give shape to your ideas and we will manufacture, in record time, the piece you want to hold your mask.
It will be very easy for you to contact us. It is enough for you to fill out the form that appears on our website and, as soon as possible, we will contact you.
We are at ELCHE PARQUE INDUSTRIAL - Calle Alberto Sols, 18 - 03203 Elche (Alicante) Spain.
Telephone: +34 965 683 882
Email info@britigraf.com
Image gallery