News
What are the most famous techniques of manufacturing rubber shoe trimmings?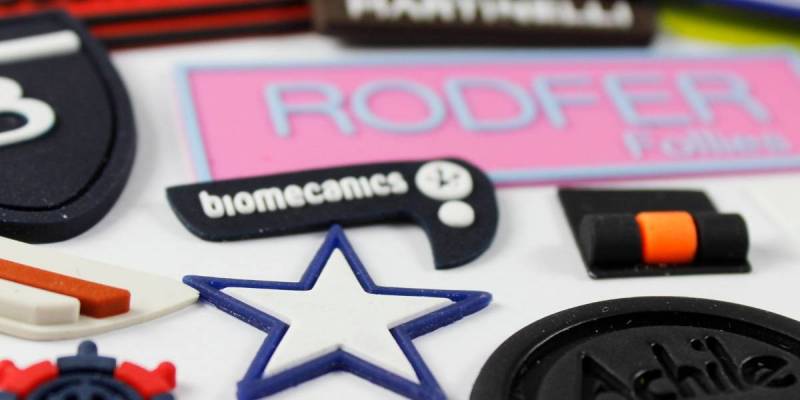 30 Nov 2022
At Britigraf we are experts in the manufacture of rubber trims for footwear. In fact, we use innovative technologies for the production of them. And it is that, after 40 years in the sector , our commitment and dedication has made us reinvent ourselves on more than one occasion.
Here we name all the ornament manufacturing techniques that we use:
Microinjection : It offers a rubbery result, with great versatility and is highly demanded in the fashion sector.
Injection : Perfect method for technical parts, eyelets, rings... and used in many different fields.
High frequency : Ideal technique to make relief ornaments and shapes on articles.
Screen printing : Ink is applied directly to the material and a high-quality design is obtained.
Labels : Printed, woven or with high frequency, labels are very important for your articles.
Stamping and engraving : Common process to record brand images, especially on footwear.
Digital printing : The most famous technique today using computing and design applied to footwear and textiles.
If you want to learn more about each of the techniques, now you can take a look at our web catalogue .
Do you need help in the manufacture of rubber ornaments for footwear? Britigraf has been a leader in the sector in Alicante for 40 years
Our work in the manufacture of decorations and textile labels for footwear, leather goods and clothing defines us. For this reason, at Britigraf you will find an expert company in the manufacture of rubber trims for footwear.
Do you want to get fast results ? After four decades in the sector, we are capable of speeding up design times . Our work model is unique and highly effective if you want to have your designs in record time.
At our headquarters in Elche we develop the entire modeling process. In addition, we have very specific professional machinery for multiple processing technologies . If you want to obtain a variety of options to create your articles, at Britigraf we will help you to do so.
Do you plan to release a new item for sale and need support? You will have at your disposal a team of creatives capable of advising you at all times. In this way, your items will stand out in a disruptive way in the broad footwear market.
Now you can get advice on the manufacture of rubber ornaments for shoes!
Do you want to know everything we can offer you? You can make a call to advise you on the manufacture of rubber ornaments for footwear. You will get a personalized and exclusive service .
At Britigraf we make personalized labels for footwear and clothing . We have a high demand for shoe ornaments. We are professionals in the design of advertising and decoration items. As well as a wide variety of benefits that we can offer you.
We are a dynamic company that uses pioneering technologies to create designs and decorations on footwear . If you want to succeed in the fashion sector, your most valid option will always be us.
Do you want more information about the manufacture of rubber ornaments for footwear?
Email: info@britigraf.com
Telephone: (+34) 965 683 882
Address: Calle Alberto Sols, 18, 03203 Elche (Alicante) Spain